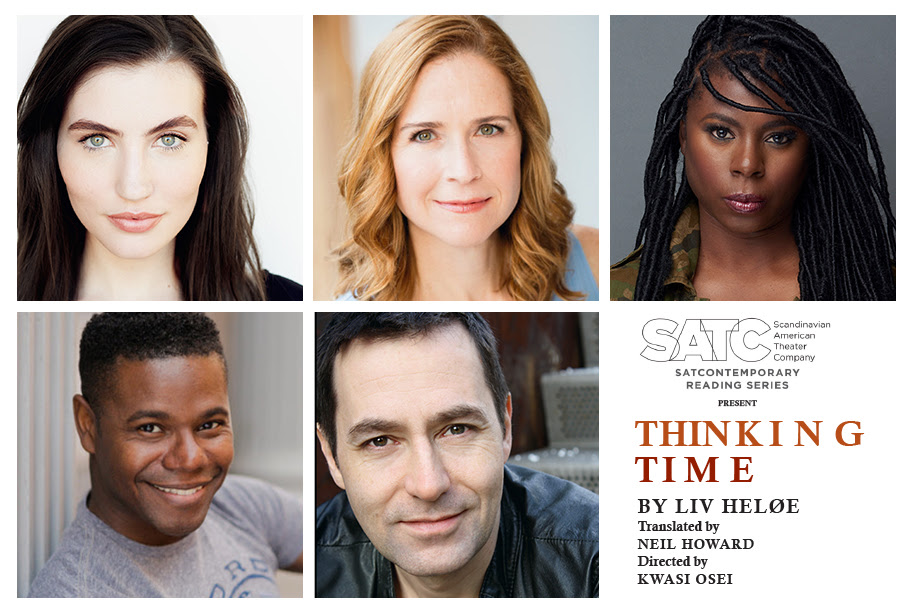 THINKING TIME
By Liv Heløe (Norway)
Translator: Neil Howard (UK)
Director: Kwasi Osei (Denmark)
STARRING
Jordan Monaghan Margaret Curry* Maryam Day
James Edward Becton* Oliver Burns*
*Appearing courtesy of Actors' Equity Association.
Thinking Time tells the story of two young women who are in the same predicament, although they are divided by several generations: young Nina is infatuated with a Roma street musician and Nina's grandmother, Ruth, remembers her love for a Nazi officer during German occupied Norway in 1942. Distance and the allure of strangers can exert a special fascination, but to really engage it takes courage and self-confidence. As Nina and Ruth, two strong, young women, remove the distance and the strangers start to become familiar, they both have to make decisions that will change their lives.

ABOUT THE PLAYWRIGHTS
Liv Heløe is a Norwegian playwright who's work debuted at the Norsk Dramatikkfestival (Norwegian Drama Festival) in 1992. Her plays focus on observations of everyday occurrences as well as political issues and how the two intermingle. She won the prestigious Ibsen award in 2006 for her plays Lise L and Idag og Imorgen. In addition to her dramas, she also writes plays for children.
Victor Borge Hall
Scandinavia House, 58 Park Avenue,
New York City, USA
Monday February 13th, 7.30 pm
(pre-reception, 7 pm)
Free Event
For more information about the company, visitwww.satcnyc.orgThe play is presented by arrangement with Colombine Teaterforläg, Stockholm