Review of
The Man Who Came to Dinner
by Moss Hart & George S. Kaufman
By Malini Singh McDonald
February 16, 2008 – The Fifth Avenue Presbyterian Church Theatre Fellowship, New York, NY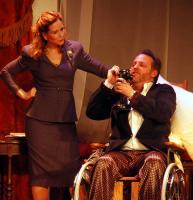 Since its debut in 1939, The Man Who Came to Dinner has enjoyed two successful revivals on Broadway and is an academic and community theater favorite. And why not? Moss and Hart cleverly wrote a funny, chaotic, and twisted play told through 17 distinct characters. Written in three very entertaining acts for Alexander Woollcott, a critic and megastar, and friend of Moss and Hart, the play centers around Sheridan Whiteside, a dinner guest of the Stanley family in Mesalia, Ohio, and clear-cut analog of Woollcott himself.
Upon entering the theater, one can see that the small space is being utilized to its fullest - the set extends onto the floor in front of the stage. The brand new red curtains, courtesy of donations by a patron, seem to be a part of the room, as well as part of the set. Old photographs sit on a crocheted throw on the baby grand, and a '40s style coats are hung on a coat rack by the door.
As the lights dim and the curtains open, we are greeted by an upper-class living room designed by the director, Lindy Rogers. Through the dialogue between Mrs. Stanley (Janet Luhrs), the gracious hostess and Mrs. McCutcheon (Maureen Daly), her friend, we learn that Sheridan Whiteside (Burke Adams) has slipped on the front step on the Stanley's home and has injured his hip. Whiteside becomes their ward – trust me, not by anyone's choice. What follows is the reign of terror that he inflicts on the family and home. Simply stated, the Stanley family is taken over by the characters of Hollywood and New York. And characters they are.
The play by itself is hilarious but it's the cast that really brings out the brilliance of Moss and Hart's writing. Every actor on that stage invested completely in their character and the show. No matter the size of their role was, they brought something very special to the show and allowed us to enjoy every moment.
Burke Adams captures the intention behind each crass, disrespectful yet entertaining word that comes out of Whiteside's mouth. His inner monologue is nonexistent. He says what most of us want to…but don't. Margaret Curry as Maggie Cutler, Sheridan's loyal personal assistant, engages us through her relationship with him. She and Adams have a wonderful rapport that demonstrates why she stands by such a man.
Steven Unger (Mr. Stanley) was perfect as the master of the house who is "trespassing" in his own home. Betsy Ross' (Harriet Stanley) quirky behavior as the mysterious aunt made us yearn for her to have more stage time. Dana Panepinto (Lorraine Sheldon) is faultless as the sexy, sultry, '40s starlet. Bill Saunders' Beverly Carlton truly stops the show. His impersonation of the never-seen Lord Bottomley was hysterically executed.
John Culver plays multiple roles, each distinctly different from the other, flawlessly transitioning from one distinct personality to another. Darrow Carson's Banjo, a Harpo Marx-esque clown, eases comfortably into this role with his natural ability for physical comedy.
Suzie Gallehugh's costume design is perfectly period. This is the directorial debut of Lindy Rogers, and a fine debut it is. As the orchestrator of this madness, she has guided her cast and her show into a glorious run.
This is their last week of performances. Be sure to be part of the madness!
Final Performances
THURSDAY FEBRUARY 21ST, 2008 7:00 PM
FRIDAY FEBRUARY 22ND, 2008 7:00 PM
SATURDAY FEBRUARY 23RD, 2008 7:00 PM
SUNDAY FEBRUARY 24TH, 2008 2:00 PM
Jones Auditorium
At the Fifth Avenue Presbyterian Church,
7 West 55th Street, NY, NY
Tickets: $18
Reservations: 212-868-4444
Posted
on Monday, February 18, 2008
© http://www.communitytheaterny.com/