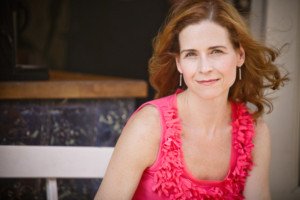 Actress Margaret Curry confronts grief, healing, family, friendship and the strong bond between dogs and humans starring in the new indie feature, STARFISH.
From writer/director Shira Levin, the film is currently on the festival circuit and will screen next as an 'Official Selection' at LA Femme, Mystic and Black Bear Film Festivals.
STARFISH follows Lily (Curry), a librarian and artist in a small seaside town, struggling with intense feelings of grief over the recent death of her dog, and of her father three years earlier. Unexpectedly, her estranged sister asks her to watch her teenage daughter for a couple of weeks, setting in motion a series of life changing events: an unavoidable confrontation between the sisters, the loss of a close friend, a bond between niece and aunt, a hint of love, and the stirring up of many emotions that require Lily to open her heart and re-engage with life.
Curry was excited by the opportunity to dive into this universal story that highlights the interconnected aspects of loss, healing and the cycle of life. Curry shares, "I read the description of this female-driven film in the casting notice and knew that I had to play this role. I had suffered a series of major losses several years before, including my parents, a brother and two beloved cats. I knew that I understood where this woman was and the way that grief can color one's life. I am so grateful for Shira Levin and her beloved real life dog, Tyler, who inspired her to create this film -- his story has changed and inspired me, through the making of this film."
Originally from Houston, Texas, Curry has earned a solid reputation as an award-winning actress and singer. She has extensive training and experience on stage, including over 300 performances as Titania in the Off-Broadway hit Fools in Love, The Musical and two Equity National tours playing Karin in the musical Church Basement Ladies. On screen, she shines as the cutthroat, out-for-justice Attorney Andrews in the action feature film, Diamond Ruff, directed by Alec Asten and produced by Young! Studios. As a singer, Curry has shared the stage with such luminaries as Leslie Uggams, Carol Channing, Billy Stritch, Amanda Green and Ann Hampton Callaway. She has appeared as a soloist or featured performer at the Kaplan Auditorium at Lincoln Center, the Allen Room at Jazz at Lincoln Center, The Hudson Guild Theatre and many of NYC's hottest nightclubs and cabaret venues.
Currently in production, Curry is working hard co-writing, co-starring and co-producing an original web series project. And coming in February 2019, Curry is directing the New York City premiere of JP Sclafani's new original one woman play, An Evening with Eva: Loving the Monster, as part of the Hudson Guild Theatre's Winterfest Festival.
by BWW News Desk ©broadwayworld.com